Advent Day 18: Mary's Hymn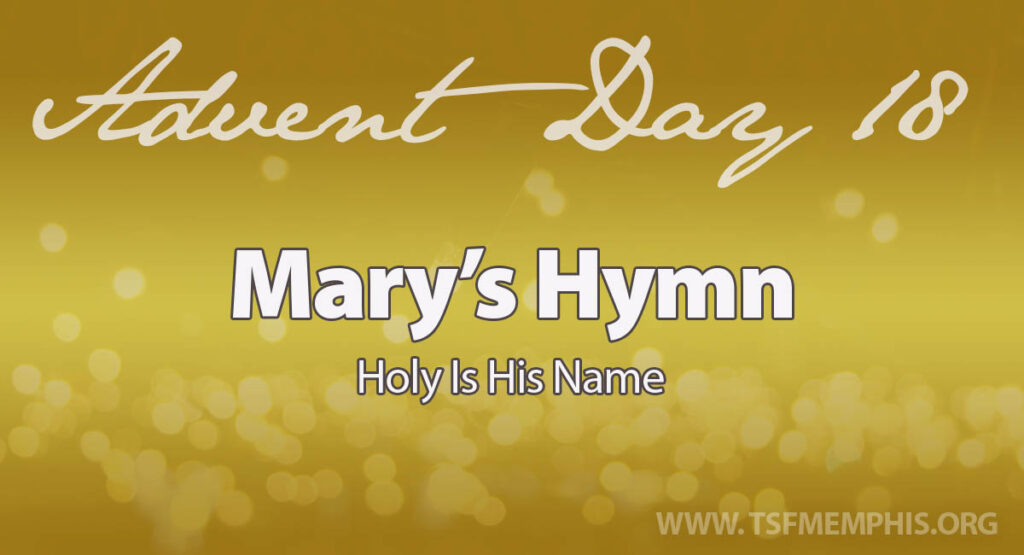 Today, we light the Green, Black, Blue and Gold Candles. The Green Candle represents life and all that Father God created in Christ, Good and Whole. The Black Candle represents the Evil and Corruption of Sin that entered our World through our rebellion. The Blue candle represents the Hope that comes from the Promises of a future Savior and King. The Gold candle represents the birth of the long expected King and Savior.
Matthew 1:50
"And His mercy is for those who fear him from generation to generation. "
After Mary receives her message from Gabriel, she goes to visit her relative Elizabeth who was pregnant with John:
Luke 1:41–45
1:41 And when Elizabeth heard the greeting of Mary, the baby leaped in her womb. And Elizabeth was filled with the Holy Spirit, 1:42 and she exclaimed with a loud cry, "Blessed are you among women, and blessed is the fruit of your womb! 1:43 And why is this granted to me that the mother of my Lord should come to me? 1:44 For behold, when the sound of your greeting came to my ears, the baby in my womb leaped for joy. 1:45 And blessed is she who believed that there would be a fulfillment of what was spoken to her from the Lord."
Mary then responds with a poem, a hymn or psalm, that is one of the high points of the New Testament:
Luke 1:46–55
1:46 And Mary said, "My soul magnifies the Lord,
1:47 and my spirit rejoices in God my Savior,
1:48 for He has looked on the humble estate of his servant.
For behold, from now on all generations will call me blessed;
1:49 for He who is mighty has done great things for me,
and Holy is His Name.
1:50 And His mercy is for those who fear him from generation to generation.
1:51 He has shown strength with his arm;
He has scattered the proud in the thoughts of their hearts;
1:52 He has brought down the mighty from their thrones
and exalted those of humble estate;
1:53 He has filled the hungry with good things,
and the rich he has sent away empty.
1:54 He has helped his servant Israel,
in remembrance of his mercy,
1:55 as He spoke to our fathers,
to Abraham and to his offspring forever."
Mary begins by praising the Lord – God her Savior. She recognizes and rejoices that He has done incredible things for her. "And Holy is His name," she says. The Lord's name is set apart, different from every other name. His name is "Holy" – there is no other god like Him. He does amazing and wonderful things like no one or nothing else can. He is perfect in all that He is and does.
Mary also acknowledges that the Lord has noticed her in her "humble estate." Mary is a teenage girl living in the middle of nowhere. Who is she that the Lord would choose her to be the mother of The Messiah, God become man?
One word… mercy.
Mary wasn't chosen because she was esteemed or respected in society. She wasn't chosen because of anything she deserves. Mary was chosen because of the Lord's mercy. The Lord chose Mary because of His own purposes and grace. The Lord chose Mary because of His wisdom and goodness. The Lord chose Mary because she is the right woman in the right time through whom the Lord will fulfill His promises.
Mary then says, "His mercy is for those who fear Him from generation to generation." To fear the Lord is to submit to Him in awe and reverence, realizing His greatness and perfection. Mary has already submitted to the Lord's plans and purposes. "May it be done to me according to your word" she said to Gabriel in response to his incredible message. In her humility, Mary "feared" the Lord more than she feared what people might think of her. And, in the times and the culture, this was a potentially life-threatening position to be in. After all, who would believe her story? It took a message from an angel to convince Joseph! But she faithfully, and fearfully, puts her life into the Lord's hands.
Mary then lists all the things the LORD has already done:

He has shown strength,
He has scattered the proud,
He has brought down the mighty,
He has filled the hungry,
He has helped Israel.

She states all of these actions in the past tense, as if they have already been done. These are the things that the nation of Israel had been hoping toward for years. These are the things that will happen when Messiah establishes His Kingdom. Mary states them as already done as an act of faithful hope.
At this point Mary has experienced the power of the LORD, but when has she seen the proud scattered or the mighty brought down from their thrones? She is living under the Roman oppression of Israel. When has she seen the hungry filled and the rich sent away empty? These things have not taken place, yet.
Even though Mary had not seen these things completely fulfilled, her hope and faith enabled her to know that they would be. Mary knows the LORD's future work is as good as done because He has promised and He is ever faithful.
The baby in Mary's womb is The Messiah—THE King—the One who will one day rule the Nations and set all things right. Even though He has not yet drawn His first breath, said His first word, taught His first parable, performed His first miracle, Mary knows that He is The Savior: He is the One who will bring Peace and Righteousness to all the Nations.
The Lord has remembered His mercy and His grace revealed in the promises made to Abraham and his "seed" forever.
Mary's Son would begin a new age in which the Lord God's grace and mercy rule.
One day, the last would be first and the first last.
One day, all things would be set right.