It is Finished: Jesus' Words From the Cross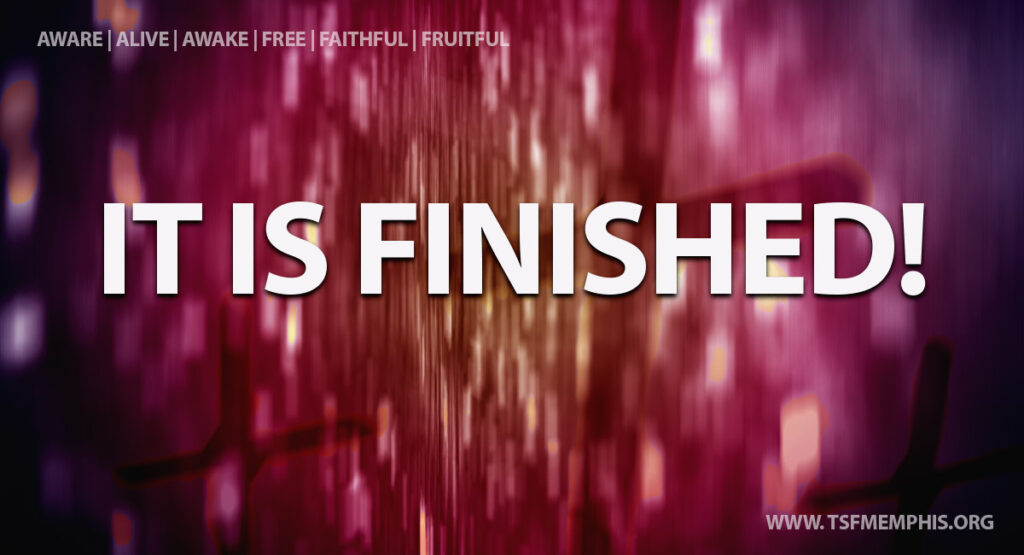 Today is the day that we remember and mourn and rejoice in the events that changed everything. All of history comes to its Crux in the Cross of Jesus. As we think on these things, the words that Jesus speaks from The Cross give us insight into what He experienced and what He accomplished for us.
In daring to write (and read) a book about the cross, there is of course a great danger of presumption. This is partly because what actually happened when "God was reconciling the world to himself in Christ" is a mystery whose depths we shall spend eternity plumbing…

John R. W. Stott, The Cross of Christ (Downers Grove, IL: IVP Books, 2006), 18.
Today is Good Friday – the day we remember the Sacrificial Death of Jesus on the Cross. As we commemorate this day, we look back on one of our MilktoMeat studies – Enlightened by The Gospel. The words that Jesus speaks from the Cross give us some insight into the work of the Cross. But as Stott cautions in the quote above, we consider these things with great humility.
Jesus Was Crucified
1 Timothy 2:5–6 For there is one God and one mediator between God and human beings, the man Christ Jesus, who gave himself a ransom for all, the testimony at the proper time,…
The New Testament accounts allow us to know that Jesus was nailed to the Cross at approximately 9 AM, Friday in the year AD 30. From 9 AM until Noon Jesus suffered the wrath of men as they mocked Him, spat upon Him, and taunted Him to free Himself from the Cross – as proof of His claim to be the Son of God, Israel's King, and humanity's only Savior. But then from Noon until about 3 PM Jesus suffering shifted. At this point, Jesus faced the wrath of God as God dealt with the problem of sin once and for all.
As we survey what we know about this time, it is important to take note of WHAT Jesus says and WHEN He says it. This will give us some insight into what is going on. Let's look at the critical statements Jesus makes:
Jesus addressed God as His "Father" before the noon darkness.
Luke 23:34 Then Jesus said, "Father, forgive them, because they do not know what they are doing." And they divided His clothes and cast lots.
Jesus called God "Father" as the Romans were dividing his clothes among themselves. Even when suffering at the hands of godless men, Jesus still prays for them asking the Father to forgive them.
Darkness covered the whole earth from Noon until around 3PM.
Luke 23:44–45 It was now about noon, and darkness came over the whole land until three, because the sun's light failed.
From the Noon to the 3 PM, Jesus drank the Cup that he feared and that He had prayed about the night before in the Garden in Gethsemane. Jesus experienced spiritual death (separation from Father God) as God dealt with Jesus not as His beloved Son, but with Jesus as "sin for us." The darkness gives us the indication that what is happening is very "dark" indeed. In the three hours of His being separated from the Father, Jesus became by choice what we had become by birth– spiritually dead and separated from the source of all life. In these hours, Jesus takes upon Himself the sins of all people for all time.
In the darkness, Jesus addressed God as "My God" and not "My Father.
Matthew 27:46 About three in the afternoon Jesus cried out with a loud voice, "Elí, Elí, lemá sabachtháni?" that is, "My God, My God, why have You forsaken Me?"
In the darkness, in His suffering, Jesus cried out "My God, My God, why have You forsaken Me?" This is a quote from Psalm 22:1, which was a recognized Messianic Psalm. What Jesus cries out here is significant.
This is the only time during His earthly life that Jesus ever addressed God as "My God." Jesus addressed God 170 times in the New Testament as "Father," 19 times as "My Father" and 2 times as "Abba Father." 191 times Jesus calls God "Father," but never "God" without qualification. So why is this the only time that Jesus addressed God as "my God"?
During those three hours of darkness, Jesus was not in a Father-Son relationship with God, but a judicial relationship. Remember, in these hours He became so identified with the sinfulness of fallen humanity that He became sin for you and for me! He drank the Cup of Wrath that signified His spiritual death (separation from God) so that we, as the fallen heirs of fallen Adam, could drink from the Cup of Salvation and have access to His eternal kind of life.
It is difficult for us to understand and fully appreciate Jesus' agony because we were born spiritually dead and separated from God. Jesus, however, for all of His eternal existence had only known a continuous fellowship with His Father in love and glory. For Jesus, separation from His Father was the worst possible agony He could imagine or endure.
Jesus cries out victoriously "It is finished!"
John 19:28–30 After this, when Jesus knew that everything was now accomplished that the Scripture might be fulfilled, He said, "I'm thirsty!" 19:29 A jar full of sour wine was sitting there; so they fixed a sponge full of sour wine on hyssop and held it up to His mouth. 19:30 When Jesus had received the sour wine, He said, "It is finished!" Then bowing His head, He gave up His spirit.
At approximately 3 PM, Jesus realized that "everything had already been accomplished" and He cries out, "It is finished!!!" Notice that He did not say "I am finished," but "It is finished." Jesus had fulfilled the eternal purposes for which He had been sent to earth. Christ had made the perfect payment for sin for all time. He had opened a way for fallen humanity to have complete and unhindered access to God in a personal relationship with Him.
And take note: Jesus' cry of victory came before His physical death!!! In the hours that Jesus had spent under the wrath of God, separated from the Father, He had experienced spiritual death. But now that was over. With His relationship with the Father restored, we could say that before Jesus died physically, He experienced a "spiritual resurrection." Even before He died physically, He had made the complete payment for sin, He had drained the Cup of God's Judgment for all time, and He had provided the basis for a "new and living way" to God (Hebrews 10:20).
Matthew also tells us that after Jesus said His last words and gave us His Spirit, "Suddenly, the curtain of the sanctuary was split in two from top to bottom; the earth quaked and the rocks were split" (Matthew 27:51). This curtain in the Temple in Jerusalem separated the Holy Place from The Most Holy Place/Holy of Holies. Only the High Priest was allowed enter this most holy place once a year. This curtain was 60 feet tall and 30 feet wide and it represented the separation of the Lord-God from "common people." It is clear that Jesus has opened up a "new way" for everyone to come directly into the presence of the Lord-God:
Hebrews 10:19–22 Therefore, brothers, since we have confidence for the entrance into the sanctuary by the blood of Jesus, by the new and living way which he inaugurated for us through the curtain, that is, his flesh, and since we have a great priest over the house of God, let us approach with a true heart in the full assurance of faith, our hearts sprinkled clean from an evil conscience and our bodies washed with pure water.
Jesus again addressed God as "Father."
Luke 23:46 And Jesus called out with a loud voice, "Father, into Your
hands I entrust My spirit." Saying this, He breathed His last.
When Jesus addressed God as "Father" again just before He released His spirit, He gave evidence that He was once again in right relationship with the Father—Jesus was spiritually alive. Just as Jesus had said, the Father had given Him the power to lay down His life and take it up again, so here He is in total control of His death. Jesus "yielded up His spirit" to the care of His father and His body entered into physical death.
Three Days later, Jesus was resurrected from the dead.
1 Corinthians 15:20–22 But now Christ has been raised from the dead, the first-fruits of those who have fallen asleep… 15:22 For as in Adam all die, so also in Christ all will be made alive.
On the Sunday after his crucifixion, Jesus' Spirit returned to his physical body which was then resurrected and transformed into a new body. Jesus died, He was buried, and He was raised to new life. These events changed everything. By His death, we are healed and made whole. By His resurrection we are given new and eternal life. By His one offering, Jesus has perfected all who are His:
Hebrews 10:12–14 But this One, after He had offered one sacrifice for sins for all time, sat down at the right hand of God, from now on waiting until his enemies are made a footstool for his feet. For by one offering He has perfected for all time those who are made holy.
We'll close out with the rest of John Stott's words that we began with:
In daring to write (and read) a book about the cross, there is of course a great danger of presumption. This is partly because what actually happened when "God was reconciling the world to himself in Christ" is a mystery whose depths we shall spend eternity plumbing… and partly because it would be most unseemly to feign a cool detachment as we contemplate Christ's cross. For, whether we like it or not, we are involved. Our sins put him there. So, far from offering us flattery, the cross undermines our self-righteousness. We can stand before it only with a bowed head and a broken spirit. And there we remain until the Lord Jesus speaks to our hearts his word of pardon and acceptance, and we, gripped by His love and full of thanksgiving, go out into the world to live our lives in his service.

John R. W. Stott, The Cross of Christ (Downers Grove, IL: IVP Books, 2006), 18.