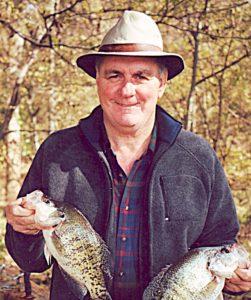 This is the archive of Tom Murray's teaching - the founder of Truth Seekers Fellowship.
Tom Murray was a gifted bible teacher who taught in the Memphis Tennessee area. Tom was motivated to "teach others what I wish someone had taught me in the early days of my Christian experience." This passion moved Tom to establish Truth Seekers Fellowship to teach and train people from all walks of life in the practial basics of following Jesus in everyday life.
Tom "graduated" into the presence of our Lord Jesus in August of 2005. Although Tom is absent in body, he lives on in spirit. We make his teaching available here as part of his legacy that continues through Truth Seekers Fellowship.
We have left Tom's biography exactly as he wrote it.
Hello! I'm Tom Murray and I am the founder of Truth Seekers Fellowship. Born in Sonora, CA in 1941 to Dewey and Theresa Murray, our family moved to Memphis in 1951. My Dad died in 1966, but my Mom is a spry 80 plus and lives in Memphis. I have one older brother and a younger sister, both living in the Memphis area, and a younger brother who went to be with our Lord on Thanksgiving Day of 2000.
I Graduated from Central High School in Memphis in 1959, I entered Vanderbilt University on a football grant in aid that fall. A recurring and unfixable knee injury ended my football career in my junior year and I returned to Memphis to pursue my business career and take care of my Mom and younger brother and sister. After a few years working in construction offices as an estimator and supervisor, I helped form a commercial contracting business in 1965 with a 50% ownership position. I operated that business for 28 years, purchasing all company stock in 1984, and finally closing it in 1993 to form Truth Seekers Fellowship. Contracting as well as participating in the ownership, development, and management of motels and office and warehouse properties, pretty well sums up my professional career.
Marrying Jeannie in 1966 was my first major success, and she still remains the closest friend I have on the earth. We have three grown children who are wonderful and faithful Christians and they have given us a great legacy in our grandchildren.
I became a Christian in 1967 at the age of 26. I had always thought that I was a Christian but discovered that I had never really understood what it meant to know Jesus personally as my Savior until 1967. I have been a member of only two local churches in my Christian life, one for 8 years and another for 26 years. I have served my church as a teacher, deacon officer, finance chairman, pastor search chairman, etc, and am deeply grateful for the input those congregations have invested into my spiritual life and growth.
I was the Teaching Director for the Memphis Co-Ed evening classes of Community Bible Study for 19 years with an enrollment of approximately 350. I continue to serve on the Board of Torchbearers International and Ariel Messianic Jewish Ministries.
Serving the Lord through Truth Seekers is my love and daily passion. I long to introduce other lay professionals to the incredible Truths from God's Word that have forever changed my destiny and my final destination. I have such tremendous awe and respect for professionals who operate in the workplace as I did. They have tremendous analytical skills and incredible wisdom in how to effectively communicate and motivate others. I have often sat in meetings and marveled at their untapped potential for Christ.
My ministry goal is to introduce all who will listen to the fantastic proposition that God is making to mankind. Discovering His purpose for man makes life an adventure to be explored instead of an ordeal to be endured. Our Milk to Meat discipleship materials are designed to serve as a roadmap to logically and sequentially guide a Truth Seeker to the discovery and enjoyment of the most fulfilling life possible now and for all of eternity.
Tom's Studies and Courses