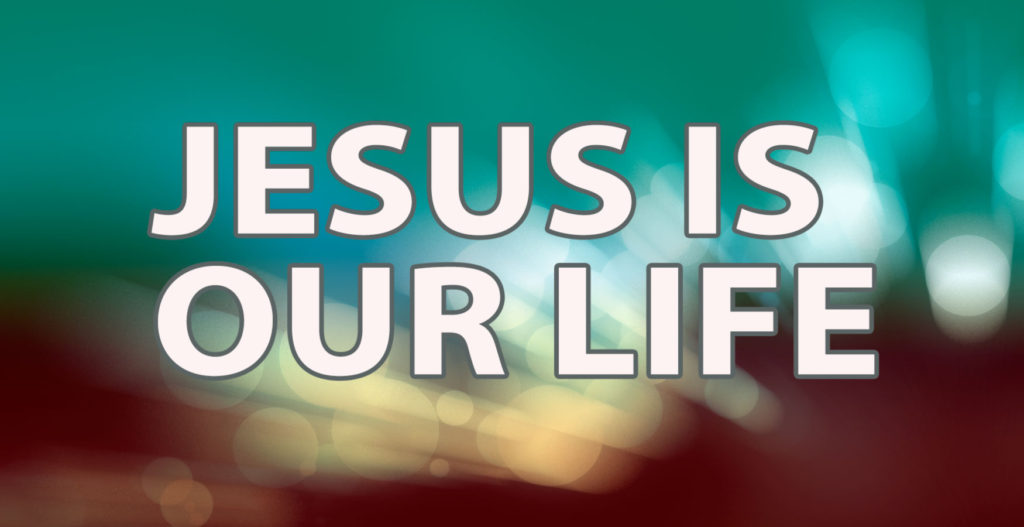 "What difference does Jesus make?" or more simple "Why Jesus?" is one of the most significant questions we can ask. It cuts right to the heart of Jesus significance to all of life.
If we look at all the Scriptures reveal to us about Jesus, we discover that He is our Creator and all things were created in Him, through Him and for Him (Colossians 1:16). Jesus now sustains and moves everything along (Colossians 1:17, Hebrews 1:3). In the end, all things will be brought together and summed up in Jesus (Ephesians 1:10). Jesus stands at the center of our past, present and future; Jesus defines reality.
If this is all we knew we might be awe-struck and possibly even fear. But there is more that we know about Jesus: He is our Savior and soon-returning King. He loves us and has given His life for us so that we can have His life and be with Him where He is. In one of my favorite passages Paul says,
"When Christ who is your life appears, then you also will appear with him in glory." | Colossians 3:4 |
Christ is my life. Christ is your life. Christ is our life. What a profound and awesome statement.
In Acts 3, Peter addresses the leaders of Israel who had conspired to have Jesus crucified. Confronting them with the reality of their treachery and sin, he says,
But you denied the Holy and Righteous One, and asked for a murderer to be granted to you, and you killed THE AUTHOR OF LIFE whom God raised from the dead. To this we are witnesses. | Acts 3:14-15 |
Jesus is the source, the originator, the Author of life. Life finds its origin in Him. In the Gospel of John Jesus Himself makes an incredible claim:
For as the Father raises the dead and gives them life, so also the Son gives life to whom he will… Just as the Father has life in Himself, so he has granted the Son also to have life in Himself…. Do not marvel at this, for an hour is coming when all who are in the tombs will hear his voice and come out, those who have done good to the resurrection of life, and those who have done evil to the resurrection of judgment. | John 5:21, 26–29 |
This week marks that high point in the Christian calendar as we look toward Easter. We remember and mourn Jesus' death on the Cross and we celebrate His resurrection in hope. He has given His life for us in death and in defeating death He is able to give His life to us.
"… you were dead in your transgressions and sins… But God, being rich in mercy, because of his great love with which he loved us, even though we were dead in transgressions, made us alive together with Christ – by grace you are saved!" | Ephesians 2:1, 5 |
Here Paul is obviously not speaking about physical death; he is speaking to people who are physically alive. Instead, what Paul is referring to is spiritual death.
In the Bible, there are three types of death and each of them are a form of separation. The first type of death, physical death is simply the separation of the soul/spirit from the physical body. The body goes into the ground (to await resurrection) and the soul/spirit goes either into the presence of the Lord or hell awaiting the day of final judgment.
The second type of death is spiritual death and this is the separation of the soul/spirit from the life of God the root and source of all life. To be spiritually dead means to be cut off from God's life and therefore spiritually "broken."
The final form of death is the Second Death, or eternal death, and this is being separated from the presence of God and all that is true, good and beautiful for all eternity see Revelation 20:6, 14; 21:8). This is the Lake of Fire described in Revelation.
Each of us were born spiritually dead – cut off, alienated from God – because of Adam's sin. This is why Paul says that we were dead in our sins, not because of our sins. The terrible truth is that we sin because we were born dead. If nothing were to change, we would one day add physical death to our spiritual death and then enter into the Second Death – separated from the life and provision of God forever.
The good news of the Gospel is that Jesus is life and He has come to give us life.
The writer of Hebrews says this about these things,
Now we see Jesus, who was made lower than the angels for a little while, now crowned with glory and honor because he suffered death, so that by God's grace he would experience death on behalf of everyone. | Hebrews 2:9 |
The Bible affirms that Jesus is sinless and this means that death could have no hold on Him (see Hebrews 4:15, 1 Peter 2:22). Jesus did not die because of His sin; He entered death because of our sins. Jesus experiences death (some translations have "taste death" here) on our behalf. If we think about this in the larger picture we can see that Jesus experiences all three forms of death. On the Cross He is separated from God as Father and so experiences spiritual death and the torment of the second death as God the Righteous Judge turns the Son over to the consequences of our sin and rebellion. At the end of this, Jesus experiences physical death when He dismisses His soul/spirit into the hands of His Father and his body is buried in the grave.
But that is not the end of this story. The Gospel proclaims Jesus death AND His resurrection. No form of death could keep a grip on Jesus. As Peter says, "it was impossible for Him to be held in [death's] power" (Acts 2:24). At the end of His torment on the Cross, Jesus is restored to the care of the Father. After three days, His body is raised to life again. Jesus has conquered death. And so the writer of Hebrews tells us,
Therefore, since the children share in flesh and blood, he likewise shared in their humanity, so that through death he could destroy the one who holds the power of death (that is, the devil), and set free those who were held in slavery all their lives by their fear of death. | Hebrews 2:14-15 |
Jesus has conquered death. On the Cross He also conquered the Devil, our Adversary who used death to terrorize us. The Gospel proclaims this awesome victory. Jesus has defeated the final enemy – death – in all its forms, therefore for those who are "in Christ" death no longer has any sting.
In John's first letter, he writes to encourage believers in their knowledge and relationship with Christ. He wants them (and us) to have confidence in what God has provided for us in Christ, proclaimed in the Gospel. He wants us to know for sure where we find eternal life:
Now this is the testimony: God has given us eternal life, and this life is in his Son. The one who has the Son has this eternal life; the one who does not have the Son of God does not have this eternal life. I have written these things to you who believe in the name of the Son of God so that you may know that you have eternal life. | 1 John 5:11-13 |
If you "have" the Son, if you have placed all your hope in Jesus by believing, trusting in Him, then you have eternal life. And take note of this: Eternal Life is not an abstract idea, it is not just living forever – it is a person, Jesus! Eternal life is our relationship with Christ. If we trust Christ to save us, then we have eternal life in Him now.
Jesus is our life!!!