He Who Is Faithful in a Little…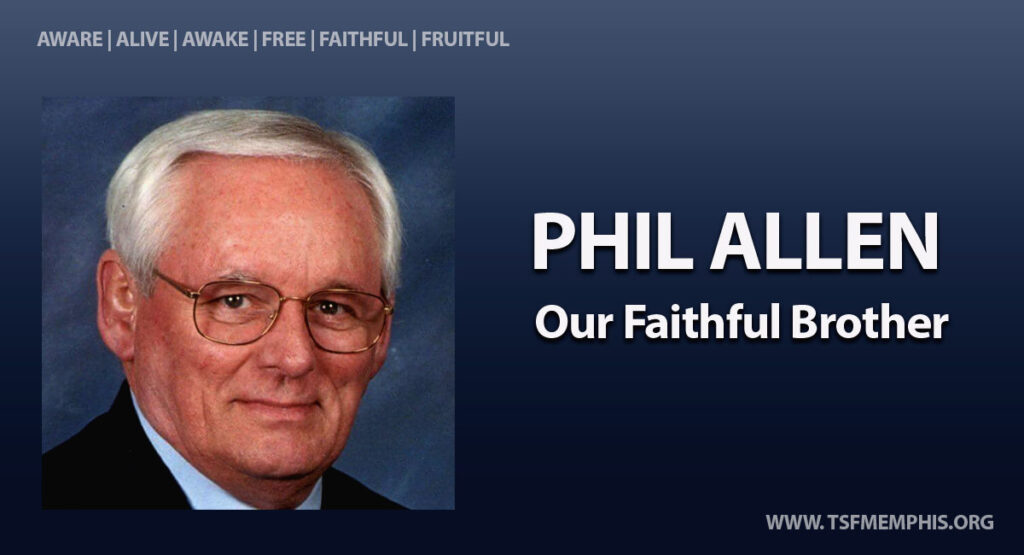 On May 19th Tim Keller passed into the Lord's presence. Almost immediately and appropriately, articles and remembrances were posted honoring his life and work, the size and scope of which cannot be denied. Just a day before, our dear brother Phil Allen also "graduated" into the Lord's Presence on May 18th. There will be no articles written in Christianity Today about Phil. But his life is a reminder that size of service is not of first importance to the Lord. What really matters is faithfulness.
Phil is the husband of Joyce Allen who served as the secretary/class coordinator/administrator (the person who kept everything together!) from 1997 till her retirement in 2022. Phil and Joyce served with Tom and Jeannie Murray in Community Bible Study in the 80s and early 90s. This ministry was part of the nucleus that later developed into Truth Seekers Fellowship.
I got to know Phil when he and I took over some of Tom's classes in the early 2000s during Tom's treatment for leukemia. Every time we got together, Phil would have some question or something he was wondering about that had come out of his study of the Scriptures. We talked about many things, but our discussion would always center around the Word.
Phil was a faithful student of the Word. This was made evident in the way he taught and in the way he answered questions thoughtfully. For many years he taught MilktoMeat in his church and with TSF. As I was editing our material, Phil's insight and feedback was always very helpful. Like Tom, Phil could communicate his knowledge and wisdom simply and effectively. When Phil spoke, people listened.
Phil was also faithful to his family and friends. You can see the impact his life made on Joyce and their children. We have all known people who put on a persona in public that is very different from who they are in private. Phil exhibited the character of Jesus in all spheres of his life. I think of the qualities that Peter encouraged us to "add to" our faith: excellence, knowledge, self control, steadfastness, godliness, brotherly affection, unselfish love. As Peter says, "For if these qualities are yours and are increasing, they will keep you from being useless or unfruitful in the knowledge of our Lord Jesus Christ" ( 2 Peter 1:3-11).
Phil was not called to a large ministry. But he did have an eternally significant ministry. His life, that was shaped by the grace and power of Jesus, touched all who knew him. In our upside-down world which worships celebrity and status, we can easily be deceived into thinking that only the "big names" and the "well known" are those who have truly significant lives. Jesus constantly reminds us in His teaching that this is not the way of His Kingdom.
Jesus illuminates a key principle for those who seek to follow and live out His Way: the person who is faithful with little will also be faithful with much (Luke 16:10; 19:17). Paul echoes this truth: "It is required of stewards that they be faithful" (1 Corinthians 4:2). Phil was faithful in all the things that were entrusted to him. Because of this, I am sure that when he finally saw the Lord Jesus face to face this past Thursday, he heard those words that every servant longs to hear, "Well done."