The Continuing Evangelical Disaster – Part 2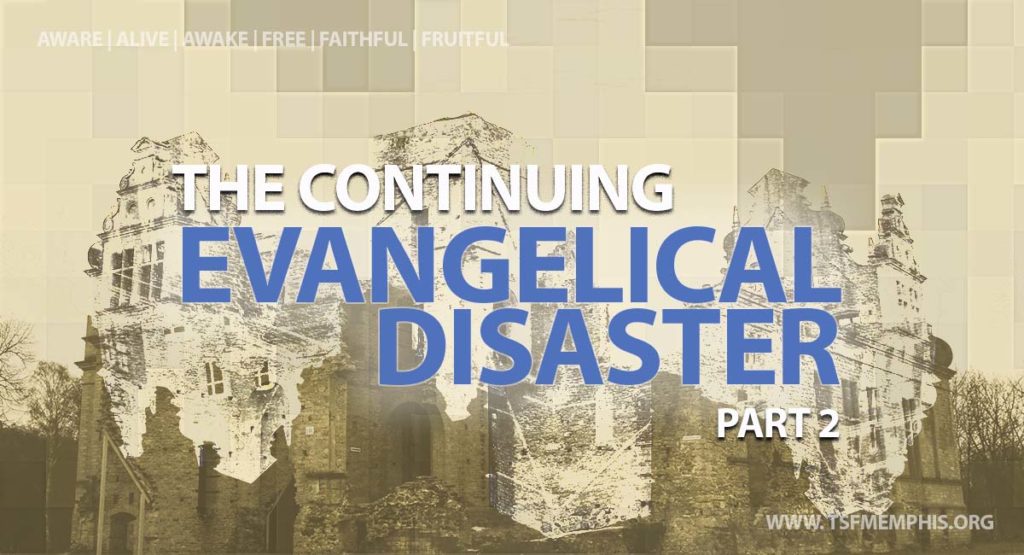 In 2001 George Barna published Growing True Disciples: New Strategies for Producing Genuine Followers of Christ. Based on studies at that time, Barna had come to the conclusion that at the practical level of everyday life, there was very little difference between Christians and non-Christians. His conclusion: the churches were not producing spiritually mature followers of Christ. What we say we believe had little impact on our lived out values.
Just a couple of years earlier, Dallas Willard had already highlighted this problematic issue in The Divine Conspiracy. Willard would go on to write several other books addressing what he called The Great Omission: the churches are not encouraging and training those who believe in Christ to follow Him toward maturity.
Could it be that the solution to this ongoing evangelical disaster is that we should get back to who we are called to be and do what we were supposed to be doing in the first place?
"The greatest issue facing the world today, with all its heartbreaking needs, is whether those who, by profession or culture, are identified as 'Christians' will become disciples – students, apprentices, practitioners – of Jesus Christ, steadily learning from him how to live the life of the Kingdom of the Heavens into every corner of human existence."

― Dallas Willard, The Great Omission: Reclaiming Jesus's Essential Teachings on Discipleship
In the first part of this series, we considered the "quiet exodus" that is taking place among evangelical churches. Recent studies have shown that there has been a precipitous fall off of "church membership" since 2000. As with any cultural movement, there are many reasons for this. As always, there are some who are "departing the faith." There will always be those who realize they are devoted to (love) something else more than Jesus. There are also those who will be deceived and led away:
1 Timothy 4:1–2
Now the Spirit explicitly says that in later times some will depart from the faith, paying attention to deceitful spirits and the teachings of demons, through the hypocrisy of liars whose consciences are seared.
In our times, there is another group that is part of this "quiet exodus." These are the ones who have become disenchanted with the programs, political agendas, and often impersonal nature of the institutions. These are the people who are raising the core question for the churches.
Before we can know what can be done, we have to get to the core problem. The problem now is what it always is – the churches forget who we are and what we are here to do.
Back to Basics
[Jesus said]… on this rock I will build my church,
and the gates of hell shall not prevail against it."
– Matthew 16:18 –
Before we go any further, it is very important that we define our terms carefully. When we reference The Church (capital C), we are thinking of The Body of Christ – the transcendent reality that stands over and above earthly realities. When we speak of the church or churches we are thinking of the local gatherings and "man made institutions." The churches are limited in space and time and they have life-spans like all other things. The Church is built on the foundation and promise of Christ and endures until Christ appears at the end of the age.
"… every church gets its identity from Christ and what He does; churches exist only in derivation to Christ; the church is invisible to all who unbelievingly close their eyes to the one "like the Son of Man." Apart from Christ, shown to us in the vision [of Revelation chapter 1], we are nothing but a society of pious, or not so pious, souls."

— Eugene Peterson, Reversed Thunder: The Revelation of John and the Praying Imagination
When Jesus spoke of building His Church, He was not thinking of a building or a program. He had something far more radical and revolutionary in mind. He envisioned a people who had given their ultimate and final allegiance to Him having experienced His love and grace. Not even the gates of Hell would be able to withstand the onslaught of this "great cloud of witnesses" who triumphed not by power, but by love.
Practicing What We Preach
The great test for any group is addressed with the simple question, "Do we practice what we preach?" In the 1 Timothy 4 passage above, Paul mentions "the hypocrisy of liars whose consciences are seared." Hypocrisy – claiming to believe something but not acting in accordance with that belief – is one of the greatest threats to any faith, to any worldview. This is especially true of Christians who represent Christ.
Jesus clearly instructs us that "trees are known by their fruit" not by mere beliefs (see Matthew 12:33). Clearly our beliefs produce our values and those values motivate our actions. All too often, we can be deceived into thinking that if we believe the right things, that is all that is necessary. James warns us that this is a foolish line of thought as even demons believe in the Truth (see James 2:18-26).
"What our world is waiting for, and what the church seems reluctant to offer, is not more incessant talk about objective truth, but an embodied witness that clearly demonstrates why anyone should care about any of this in the first place."

– Phillip Kenneson, "There's No Such Thing as Objective Truth, and It's a Good Thing Too" in Christian Apologetics in the Postmodern World
If we believe in Christ, we are also called to follow Him in His WAY of life. As we do this His values become our values. His virtues become our virtues. This is a process of growth and maturing in which we become more and more like Christ day by day. This whole process is just a effect of love; we become like who or what we love.
In Colossians, the letter that focuses us on Christ more than others, Paul affirms this core goal clearly:
Colossians 1:28–29
"[CHRIST] we proclaim,
warning everyone and teaching everyone with all wisdom,
that we may present everyone mature in Christ.
For this I toil, struggling with all his energy that he powerfully works within me."
In Ephesians 4, Paul encourages us to "live worthily of the calling with which you have been called" in humility, gentleness, patience, love…. (Ephesians 4:1-3). He then reminds us that the Spirit is working to unite us in the "Oneness" of our faith through a common set of beliefs and values (Ephesians 4:3-6). He goes on to say that Christ Jesus Himself has gifted each one of us with His grace and the very people we need so that we can all be trained to serve and so attain THE GOAL:

Ephesians 4:13
"… until we all attain to the unity of the faith
and of the knowledge of the Son of God,
to mature manhood,
to the measure of the stature of the fullness of Christ,…"
When we set this passage in the context of the whole New Testament, we can see the central importance of spiritual growth toward unity (oneness) and Christlikeness. I have not found one passage anywhere in Scripture that says we will achieve these goals through political action, technology, or programs. Jesus' quiet revolution is personal and spiritual.
[In another post, we presented Dallas Willard's description of Christlikeness from his book Renovation of the Heart. You might find that description helpful in seeing the attractive nature of the life Jesus calls us to. You can find the post here.]
Toward This Goal…
"The Christian ideal has not been tried and found wanting.
It has been found difficult; and left untried."

– G. K. Chesterton, What's Wrong With the World
I have often heard this quoted incorrectly. Notice, Chesterton does not say "Christianity" but the "Christian ideal" – it is the ideal that has been found difficult and left untried. The "ideal" is the calling of Jesus that is impossible without His work in our lives through the Holy Spirit. It is the call to a life of hope, trust and love practically lived out in every facet of our lives. It is a call to follow Him no matter the cost.
Barna gave one explanation of this call that has stuck with me:
"Jesus did not minister, die, and rise from the dead merely to enlist fans. He gave everything He had to create a community of uncompromising zealots – raving, unequivocal, undeterable, no-holds-barred spiritual revolutionaries. He has no room for lukewarm followers. He is not interested in those who have titles, prestige, and self-sufficiency. He is searching for the broken, hopeless, helpless, spiritually dependent individuals who readily acknowledge that they cannot make any headway without total and absolute dependence upon Him. He is seeking the hearts of those who are willing to surrender everything for the blessed privilege of suffering for Him, just as He suffered for us. He wants people who are dedicated to getting beyond the offer of mere salvation to those who are willing to do what it takes to complete a personal transformation." (emphasis mine)

– George Barna, Growing True Disciples, 98-99
In the past 20 years, I have witnessed many evangelical churches become completely distracted from this goal. Entanglements with political tribalism, consumer driven programs, "cults of personality," "rightolotry" (the need to always be "right"), have kept us both distracted from focusing on Christ and following His Way.
Back to the Beginning
We began this series with Francis Schaeffer's work The Great Evangelical Disaster. After diagnosing the problems, Schaeffer prescribed his now famous "final apologetic." He suggested that people can argue against ideas and beliefs but not against 1) our unity and oneness as Christians and 2) our love. Our oneness in Christ worked out in love gives the final evidence that Christ's work in the world is real.
This was on Jesus' mind in the last hours before the Crucifixion, and so He prayed:
"I do not ask for these only, but also for those who will believe in me through their word,
that they may all be one, just as you, Father, are in me, and I in you,
that they also may be in us,
so that the world may believe that you have sent me.
The glory that you have given me I have given to them,
that they may be one even as we are one,
I in them and you in me, that they may become perfectly one,
so that the world may know that you sent me
and loved them even as you loved me."

— John 17:20–23
Take note of the reason Jesus prays what He does: so that the World will know that He was sent by the Father. If we bear the title "Christian" we give witness to Christ and represent Him to the world. Since He IS Truth, it is only through His life in us that others will get a taste of the joy and peace that comes through hope and love, and having tasted His goodness, maybe they will trust Him. If we are to be faithful, we must always remember who we are and who we are called to be in Christ.
For years, the descriptor evangelical described people who stood for the truth and the reality of Jesus' incomparable and gracious work in the world. Today the term has been highjacked by some who have entangled it with things that Jesus Himself would disapprove. Evangelical is a good word that needs to be redeemed.
Maybe, just maybe, if we within the evangelical churches were serious about pursuing this goal of Christlikeness, those who are making a "quiet exodus" would not be looking for something else. And maybe, just maybe, the watching World would get a glimpse of a reality that can be seen nowhere else…. at least for now.