Hope, Trust and Love in the Age of Fear | Part 2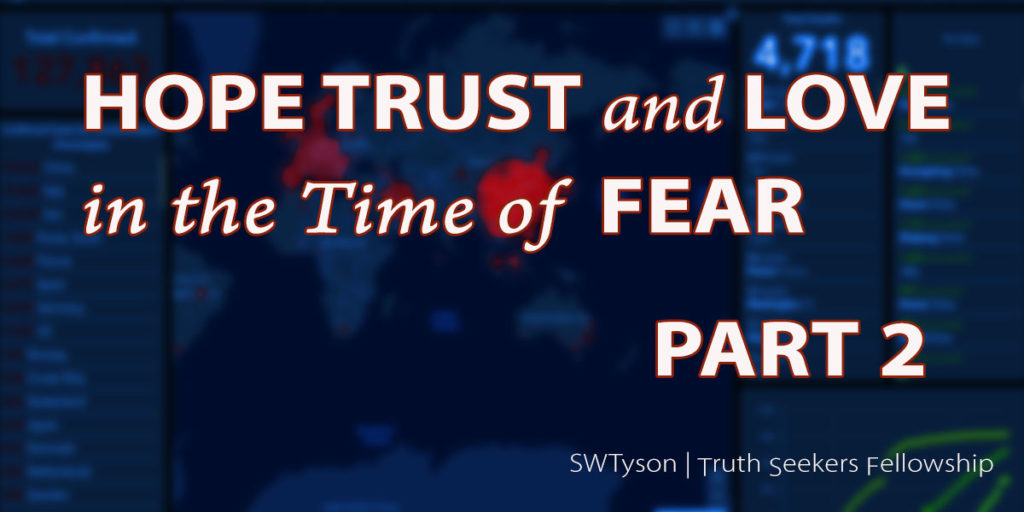 While in seminary, a student asked one of our church history profs, "What is the greatest false assumption we are making now?" His answer: "We assume that our way of life will go on and on uninterrupted. But as with all cultures that have come before us, our American experiment and experience will come to an end."
In the US, in recent times, we have been so insulated from extreme poverty, disease, and war that we often forget that this world is, by its very nature, unstable and unsafe. It is a world raped and ravaged by sin and its effects – corruption and death.
If we are to remain sane, we need a source of hope better than the cultures of this world offer, larger than the "American Dream."
Hope In Christ Anchors Us
The writer of Hebrews refers to the eternal redemption that we have in Christ as "a sure and steadfast anchor of the soul, a hope that enters into the inner place behind the curtain, where Jesus has gone as a forerunner on our behalf…" (Hebrews 6:19-20). Our great hope as Christians is that Jesus has done EVERYTHING to secure our eternal destiny. He has opened the "new and living way" back to Father God. This gives us a whole new perspective on our lives in the here and now.
I have often defined hope as the confident expectation that things will turn our well because of who Father God is and what He has promised to do in Christ through His Spirit. True hope is not wishful thinking. True hope is built on the foundation of what Father God has already done and looks toward the future in light of what He has promised to do.
Hope is both the starting point and the conclusion of our salvation. In Romans 5, Paul focuses on some of the some of the results of being set right with Father God through faith:
Therefore having been justified by faith, we have peace with God through our Lord Jesus Christ, 5:2 through whom also we have obtained our introduction by faith into this grace in which we stand; and we exult in hope of the glory of God.

Romans 5:1–5
Take note of that last phrase, "and we exult in hope of the glory of God." In Colossians 1:27, Paul explains a secret that Father God had not revealed until Christ: "Christ in you, the hope of glory." He is saying that Christ dwelling in His people gives them the "hope of glory." What is this hope of glory? I think Paul explains this in
"To this he called you through our gospel,
so that you may obtain the glory of our Lord Jesus Christ."

2 Thessalonians 2:14:
Our great hope is that when we see Christ, we will obtain—share in—His glory! We, who have fallen so far from that glory, will one day be restored completely to share in that glory.
"And not only this, but we also exult in our sufferings, knowing that suffering brings about perseverance; and perseverance, proven character; and proven character, hope; and hope does not disappoint, because the love of God has been poured out within our hearts through the Holy Spirit who was given to us."

Romans 5:3
We are, or should be, people characterized by radical hope. Peter even instructs us to be ready to give a defense, an explanation, of our hope in the midst of our suffering (1 Peter 3:15). When Christians face suffering and crisis with confident expectation, the world will want to know why.
We are the only people in the world who know how things are actually going to turn out – we know how this present age ends. Jesus is returning and His Kingdom will be established and it will never end. One day, maybe soon, that 7th Trumpet will sound (Revelation 11:15). Until then, we hope. Nothing can shake this hope because it is built on the promises of Father God given to us in Christ, protected through the power of the Holy Spirit.
Even this sin ravaged creation is longing for the day we are revealed in glory, so that it too can be set free:
For the creation waits with eager longing for the revealing of the sons of God. 8:20 For the creation was subjected to futility, not willingly, but because of him who subjected it, in hope that the creation itself will be set free from its bondage to corruption and obtain the freedom of the glory of the children of God. For we know that the whole creation has been groaning together in the pains of childbirth until now.

And not only the creation, but we ourselves, who have the firstfruits of the Spirit, groan inwardly as we wait eagerly for adoption as sons, the redemption of our bodies. For in this hope we were saved. Now hope that is seen is not hope. For who hopes for what he sees? But if we hope for what we do not see, we wait for it with patience.

Romans 8:19–25
All of us who are alive "in Christ" are new creations, spiritually speaking (2 Corinthians 5:17). The spiritual "inner person" has been renewed, and is being renewed day by day; but the physical, outer person continues to decay (2 Corinthians 4:16). When we see Christ and share in His glory, then our bodies will be glorified, renewed — redeemed as Paul says here in Romans 8. Then every aspect of us, both spiritual and physical, will be compete and whole, glorious. Until then, we wait. Patiently.
Trust in Christ Secures Us (Part 1)
It is a strange thing that as we have more access to more information than ever before, most of us distrust, or are at least skeptical about, what we hear on the "news," social media, and the internet. Who are we going to truly trust? In whom are we going to place our ultimate confidence?
In Isaiah 7, King Ahaz is faced with an "international crisis." King Pekah of The Northern Kingdom of Israel (Ephraim) had made an alliance with King Rezin of Aram (Syria) in order to stand against the coming threat of the Assyrians. When Ahaz refuses to enter their alliance, they decide move against the Southern Kingdom in force, depose Ahaz and replace him with their chosen man, the son of Tabeel.
What happens next is significant:
"When the house of David was told, "Syria is in league with Ephraim," the heart of Ahaz and the heart of his people shook as the trees of the forest shake before the wind."

Isaiah 7:3–4
King Ahaz and the kingdom of the South is referred to as "the house of David." This calls to mind the promises Father God made to David to build a "house" for him, establish his name, and raise up one of his Sons to rule forever (2 Samuel 7). But now, Ahaz is faced with a real threat and all are shaken to their core.
As Ahaz is out preparing for the siege, the LORD sends Isaiah with a message:
"Then the LORD said to Isaiah, "Go out with your son Shear-jashub to meet Ahaz at the end of the conduit of the upper pool, by the road to the Fuller's Field. Say to him: Calm down and be quiet. Don't be afraid or cowardly because of these two smoldering stubs of firebrands…."

Isaiah 7:3–4
The meanings of the names in the Hebrew Scriptures often shed light on Father God's plans and purposes. Isaiah means "The LORD saves" and his son's name means "a remnant will return." The Lord had already foretold that the Northern Kingdom would be carried away by the Assyrians but that He would save His people and bring a remnant back to the Land.
Now, the Lord is telling Ahaz not to be fearful or cowardly because of these two "stubs of firebrands" – He was not going to let them succeed. These men who intended to "burn the place down," so to speak, are no more than smoldering embers.
Notice what the Lord tells Ahaz to do: nothing. Some translations have "take care to be quiet" here. One commentator suggested the idea is to "take care to do nothing." The language here directs Ahaz to settle down and simply trust the Lord's Word. The Lord has already taken care of the problem and He will work His plan out as things unfold.
"The abiding truth of this passage is that faith in the Lord and in His promises is a practical approach to life however great the crisis."

(J. Alec Motyer, Isaiah: An Introduction and Commentary, 85)
When we face a crisis, we probably will not get a direct word from the Lord like this. But we already know that He has made promises to us in Christ that shape the course of our lives:
"His divine power has granted to us all things that pertain to life and godliness, through the knowledge of Him who called us to his own glory and excellence, by which He has granted to us His precious and very great promises, so that through them you may become partakers of the divine nature, having escaped from the corruption that is in the world because of sinful desire."

2 Peter 1:3–4
Let me say also that in the times we are facing now, the Lord wants us to be wise as well as faith-full. By doing "nothing," I am not saying we should ignore the "best practices" that are being given to slow the spread of COVID-19. Also, the Lord wants us to be mindful of how our actions will affect others. We take precautions, but know that the Lord God stands sovereign over all.
Going back to the Romans 8 passage, why is Father God "working all things together for good?" So that we might be conformed, shaped in the image of Christ! (see Romans 8:29) No matter what is going on in our circumstances on Earth, we know that Father God's purposes are going to be worked out. As Christ's people, we are destined to be like Him and rule with Him in the Kingdom that is coming (see Revelation 20:4, 22:5).
Let me make a point here: the Lord has not promised to keep us from pain, suffering, or even death. These are all "tools" that He uses to shape us into the likeness of Christ.
Father God has promised to never leave or forsake us and He has predetermined that we will reach our final destination in His presence. Our great hope is that nothing can separate us from the love of Father God in Christ. This hope in Christ leads to our trust of Christ. We remember that all things are under His sovereign care.
To be continued…